February 01, 2023
Bright Fresh Pea Gazpacho
A soup that embraces all we love about this time of year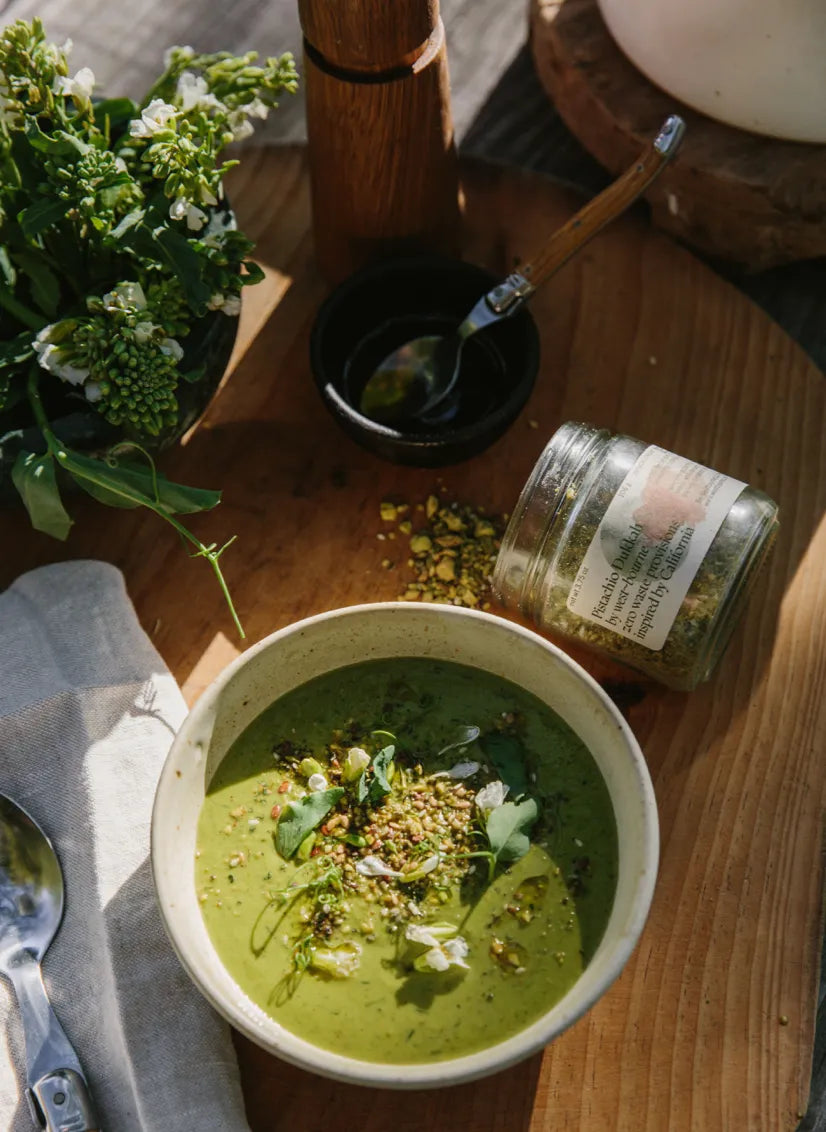 The first day of spring calls for reimagining our greens with a soup that embraces all we love about this time of year. As spring evolves into summer we're making a vibrant, chilled, creamy fresh pea gazpacho (topped with our pistachio dukkah, of course). 
Ingredients
Soup:
2 ½ cups of fresh peas
½ onion, chopped
1 small garlic clove
1 ½ tsp olive oil
¾ cup water
2 ½ tsp salt
Herb Chive Oil:
1 bunch of chives, cut into 2-in batons
⅓ cup picked mint
⅓ cup picked thai basil 
¾ cup of west~bourne Organic Extra Virgin Avocado Oil
Sprinkle of west~bourne Pistachio Dukkah to top
Make:
Pea Gazpacho:
Sweat the onions and garlic in olive oil until soft. While the onions and garlic are sautéing, bring a small saucepan of water to simmer and drop in your peas. Cook just until the peas are tender, 6 - 8 minutes. Once cooked, drain and set aside to cool. Once cooled, puree the onion stock, add ice, and stir to continue. Add peas and pureed onion stock to a blender. Blending from low to high, until smooth. 
Herb Chive Oil:
Combine the herbs and blanch in boiling water until leaves turn bright green, about 30 seconds. Use a strainer to pull the herbs from the water and immediately shock in an ice water bath. Once completely cooled, squeeze the herbs dry as much as possible. Combine the herbs and oil in a blender and blend on high until you get a fine puree. Be careful not to over blend, as that can leave the oil a less vibrant green. Strain the oil into a container. Let the oil strain for a couple of hours until the solids feel dry and most of the oil has passed through the container. Store your herb chive oil in an airtight container.
Pea Tendril Salad:
In a small metal bowl, toss pea tendrils and radish with olive oil, salt, and lemon juice. Build the salad on a plate in the mound you envision it will be plated in the middle of the bowl.
Plate:
Portion your soup between 4 bowls. Gently place the salad in the middle of the soup, garnish soup with dressed pea tendril radish salad, drizzle herb oil, and sprinkle with our Pistachio Dukkah.